'Democracy' comes from 'demos', the Greek word for 'people'.
Basically a democratic society is  a social arrangement where the people is in charge. Through representatives, as in most cases, or even directly – the Swiss organize referendums whenever they have something really important to decide.
'Republic' comes from Latin. 'Res publica' means 'public matters (=issues)' so a republic can be seen as a social arrangement where everything is out in the open.
Would it make any sense for the public to know everything that is going on if they don't have any say in the matter? Could democracy work if people are kept in the dark?
So.
In communism the state (in fact the rulers) decide everything – who does what and who gets what.
In socialism there is not much difference from the previous state. (I can vouch for both propositions, I've lived under both regimes)
'Anarchy' means no rules. If you happen to have two cows you need to defend them constantly, by your own, against anyone who covets them. Remember, anarchy means 'no rules' whatsoever. You cannot cherry-pick. I like this rule (property rights are fundamental for me) so this one stays in place while the the rules that I don't like will be discarded.
As in 'I won't respect but the rules I like and I'll hold everybody else to respect mine'.
That would be an absolutely one sided anarchy. If you'd be able to enforce such an arrangement it would be perceived by everybody else as the most authoritarian regime ever and Stalin would be jealous of your accomplishments.
As I said before 'democracy' means people having their say about how things are settled in a that particular society. If people respect each-other you have real democracy. If people band together to decide, against the will of the owner, about the fate of those fabled two cows we can no longer speak about true democracy. That would be 'mob rule', just another form of 'anarchy/authoritarianism'. One 'organized' by a ruler who is a callous spin doctor skilled enough in his trade to make a considerable portion of the population follow him, usually against their better interests.
I was just speaking about the mutual respect that exists among the members of a truly democratic society…. I have a distinct feeling that those who promote this meme think of themselves as being 'the true democrats'… I'm not a religious person myself, not in the classic sense of the word anyway. But I won't ever think of a religious person as being 'ignorant' based solely on his creed and I'll never refer to him using such a word, regardless of his level of education. One of the reasons being that if I 'indulge' in such a barbarism he'll never listen to me again.
Why should he? To get some more abuse from me?
Now lets get this straight.
Mutual respect is absolutely essential for democracy.
There can be no such thing as mutual respect among individuals whose goals are mutually exclusive.
This meme actually doesn't make much sense. No matter how well armed the lamb is, a determined wolf would eventually sink its fangs in the lamb's sweet flesh so a rational lamb would do his best to shoot the wolf at the first opportunity. What kind of democracy are we speaking about here?
Most governments don't get this. You can stretch it only that far. At some point, no matter how authoritarian the regime, people will take to the street.
This doesn't mean that democracy will automatically be installed after a public uprising, far from it. The Arab Spring is only the latest example.
It only means that people have it in themselves to try to improve their lot. If they find a way to do this together then the sky's the limit.
And this is a fact. Only the democratic America successfully landed a man on the Moon. The Soviet Union was the first to start this game but wasn't able to keep up.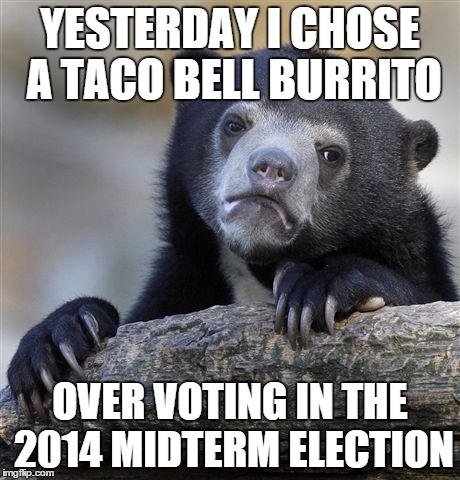 Yeah? And what are bragging about here?
About not finding a candidate to suit your wishes AND not doing anything about this situation?
How about running yourself? Or at least going there and annulling your ballot…
If you do not vote at all the political establishment will consider that you are either content with what is going on or so despondent as to not care anymore. So why should they even consider your plight? In which direction should they change their behavior in order to suit your needs if you don't express them when you have the chance?
Really? Is he indeed unable to make distinction between democracy and mob rule?
'Democracy in and of itself is not necessarily a good thing'…
I'm afraid he didn't get the gist of it!
Real (=functional, stable over long periods of time) democracy IS good while mob rule IS bad. Period.
So, any chance for this cute fellow to have nailed it?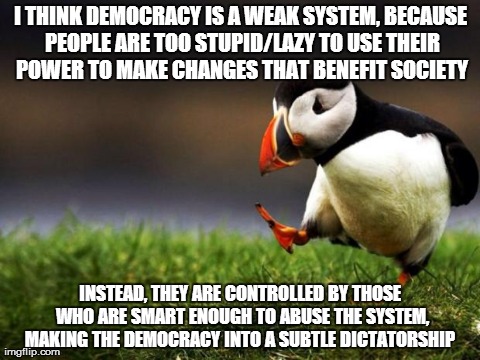 Close but there is space for improvement so I'll try to rephrase this.
A democratic system invariable becomes weak/unstable if the general public becomes complacent and the power is grabbed by short-sighted but arrogant and callous spin doctors who, by eviscerating the true nature of democracy, transform the concept into an empty shell. This way the democratic process becomes a beauty pageant and an erstwhile democracy becomes a subtle dictatorship.
The strangest part of all this is that exactly those who should have known better – the professional politicians and some members of the academia – are the first to fall into the trap.